Hi there, FABULOUS readers! As I was browsing through
Glamour and Grace blog
recently I came across this wonderful DIY perfume locket by
Sarah Montes
. It instantly reminded me of an adorable perfume locket I had when I was young. It was truly my favorite thing. Just think of how happy your bridesmaids will be to receive such a thoughtful and sweet gift like this from you. Truly handmade with love.
The directions below are from Sarah Montes.
Materials (will make 5-7 lockets, depending on size):
2 tbsp Beeswax
2 tbsp Olive Oil, Sweet Almond Oil or Jojoba Oil
Essential oils (some great scents are Jasmine, Lavender, Vanilla, Ylang yllang, Citrus, etc.) You can find these at natural food stores, craft stores or online)
Clean, empty jar
Wooden skewer or clean straw
Empty locket
Making the perfume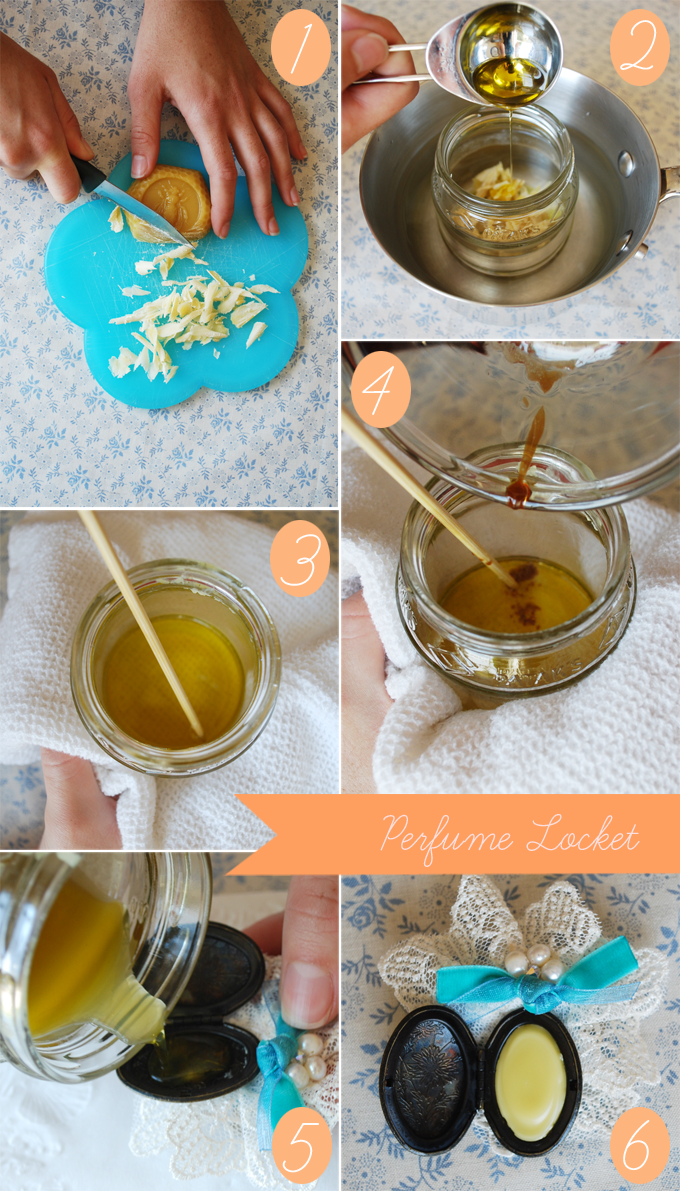 Using a cutting board and a knife (preferably items that you don't mind getting waxy) cut one of the beeswax blocks into shavings. I ordered my beeswax from Honeyrun Farms, an Etsy shop that sells their homegrown honey, beeswax, soaps and candles. One of their 1-oz. blocks equals about two tablespoons of beeswax.
Once the beeswax is in thin shavings, put it into the jar with the olive oil. Place the jar into a sauce pot with about an inch or two of water in it, and heat on medium to low until the mixture is completely melted.
Use the skewer or straw to stir and help break up the beeswax until it is smooth. Take off of heat.
Measure out 20-40 drops of essential oils. I did this beforehand into a small dish so that I could immediately pout it into the wax/oil mixture without having a chance to set up. Since I did a Lavender Vanilla scent, I used about 15 drops of Pure Vanilla Extract (yes, the kind you use for baking! Imitation vanilla will not substitute here) and 20 drops of Lavender essential oil. Stir well into the mixture.
Once the scents are mixed into the beeswax mixture, very carefully begin to pour into the lockets. I wrapped a towel around the jar since the wax was still already hot. Fill the lockets up to the edge of the hollow part, being careful not to overfill. If it gets into the part with the latch, it's okay, the clasp will still lock since it is a soft wax. Fill both sides if you want, or leave on side open for a photo.
Let the perfume sold sit for about 30 minutes. It should be dry to the touch, and you can just swipe your finger across and apply!
**You may find that throughout the process of making the perfume that you stop smelling the scent you've put in. Don't worry, your nose has just adapted to it. You will be able to smell it after being away from it for an hour or so.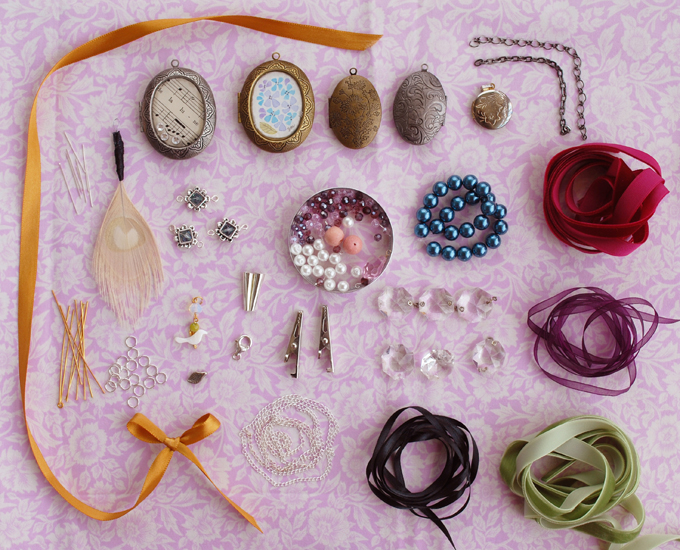 Suggested Jewelry Materials:
Lockets
Ribbon, chain, lace
Pin backs
Beads, charms, crystals, Findings (clasps, jump rings, eye pins)
Assorted jewelry tools (pliers, round nose and flat, wire cutters)
For the jewelry, assemble the materials you will need for your lockets. Think of what you want to make: a necklace, bracelets, brooches, something to pin to your bouquet, etc. I find that sketching out some ideas first helps a lot, then you can know exactly what materials you need, and you have a sort of blueprint to follow as you assemble your jewelry.
Also, consider the style of your wedding. Do you have a lot of vintage elements? You might want to help find lockets with a nice patina, paired with lace and some vintage glass beads. Do you love classic style, a la Audrey Hepburn? Go black and white with some peacock feathers and pearls. Are you giving these gifts to your bridesmaids, or mother of the bride? Make each one different, perhaps adding a small charm that represents something about the woman you are making it for.
Choose lockets that are a bit larger to get the best results. Small lockets will work, but they will not hold much perfume. I'd suggest keeping the size to about an inch or larger. Have fun scouring antique stores and flea markets or even Ebay for vintage lockets and findings. This will be more expensive though, so check local craft stores for supplies as well. I found my lockets at Michael's and Joann's and paid an average of $4 per locket. You will also need a good pair of wire cutters, round nose and flat nose pliers. You can buy a jewelry tool kit at craft stores for about $15, or just raid your fiance, boyfriend, husband or dad's toolkit!
**If you've never made jewelry before, try searching Google or YouTube for some easy how-to tutorials and videos. You can find a lot of basic techniques and tips to help get you started. Or simply slip your finished locket onto a pretty chain or ribbon and voila! instant necklace!
Once you have all of your materials together and a plan for your lockets, put on your favorite wedding movie and some comfy PJ's and get started!
If you like any of the lockets you've seen here today, head on over to
my Etsy shop
!
Is this FAB or what? I love it so much that I am making one for each of my daughters and for my lovely sister soon! xoxo
Until Next Time, Stay Fabulous!