Hands down, EVERY SINGLE client I have ever worked with loathes this task more than any other. Trying to determine where everyone should sit, ensuring that your parents and grandparents and other special guests get prime seating. Being sure that singles are not all alone at a table of couples....it goes on and on! It's a task that I absolutely cannot help my clients with because I don't know their family and friends nor who gets along with or has a problem with who. So perhaps having a pretty FABULOUS seating chart may help make this loathesome task a but more fun. Check out these unique ideas for creating a really cool and eye-appealing seating chart...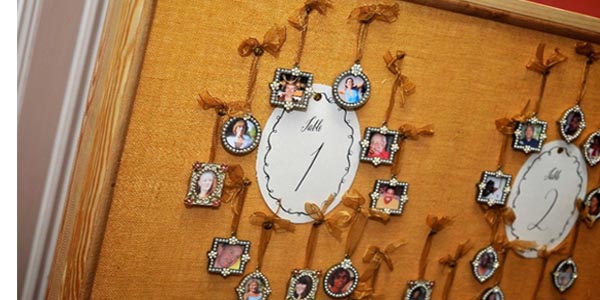 I love these tiny frames hanging by ribbons with photos of each guest. It would take a little more footwork to get photos of everyone, but what a fun idea and a source of entertainment for your guests as they wait to enter the reception hall.
This is very Tron-esque to me. A seating chart projection! Futuristic...different...fun!
I adore this life-sized seating chart! It has a great vintage carnival feel to it and would make an amazing focal point.
This graphic seating chart in an over-sized vintage frame is so different and would be a ton of fun for the guests as they follow the line from their name to their table number!
I figure if you're going to be sitting there pulling your hair out over your seating chart, you might as well do it while creating something FABULOUS!
Until Next Time, Stay Fabulous!